Employee volunteerism overview
ExxonMobil fosters a culture that encourages employees to contribute to the communities where they live and work, including giving of their effort and time to meet various needs of the community.
Employee volunteerism overview
Our employees in Singapore come together for a good cause in their teams or participate in company-wide outreach activities.
In smaller groups, our employees have brought meals and goodie packs to seniors at elderly homes and brought groups of children and youths out for excursions, in partnership with voluntary welfare organizations such as AWWA and the Singapore Red Cross. We also encourage our employees to volunteer in our company-wide community outreach activities.
Adopt-A-Rental-Block
We partner the South-West Community Development Council (CDC) for an annual Adopt-A-Rental-Block program that involves the distribution of groceries and household essentials to low-income residents. Every year, more than 200 ExxonMobil employees, friends and family members pack and distribute food packs to households residing at low income rental blocks within the South West District.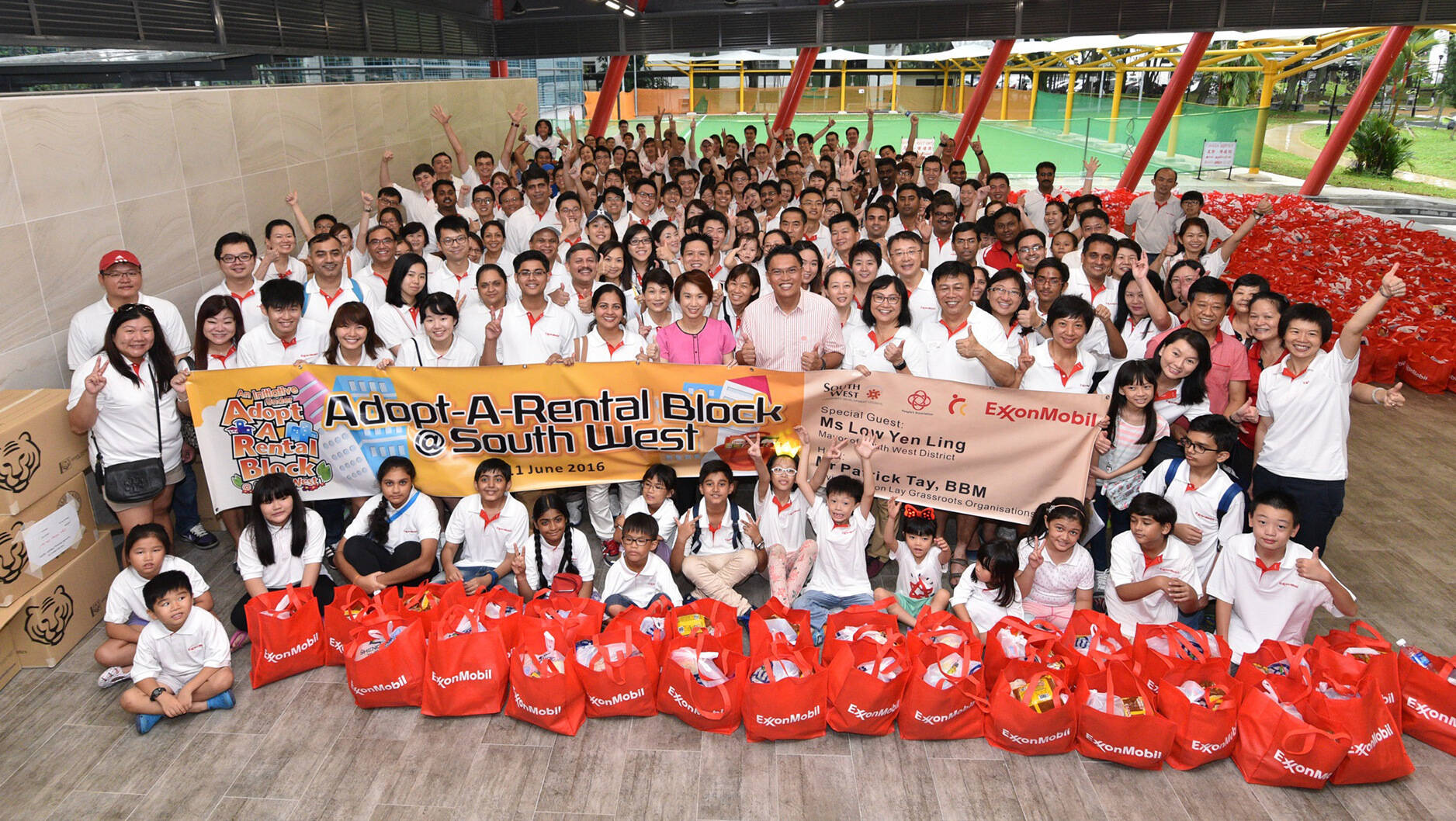 Blood donation drives
ExxonMobil has organized blood donation drives annually at our offices and public locations since 1999. Our employees and their family members volunteer at these drives, helping educate and persuade members of the public to come forward and donate blood. Since 2003, we have been the Singapore Red Cross' top corporate donor.
Junior Achievement
ExxonMobil is a worldwide sponsor of Junior Achievement, a non-profit organization that works with local business and organizations to deliver experiential programs on financial literacy, work readiness and entrepreneurship to kindergarten through high-school students. Globally, Junior Achievement reaches 10.6 million students in 117 countries. Through the Junior Achievement program, employee volunteers visit schools to teach modules to help prepare students for life beyond school.
Running for a Cause
Each year, ExxonMobil organizes an annual running carnival for employees and their families, with a cause. As part of the event, the company matches employee donations to raise money for a selected charity. Through the years, proceeds from the carnival have been donated to various organizations including SPD and SASCO.